At this current moment in time (October 2023) the market continues to face recruitment and retention challenges. This is having a direct impact on ECC's ability to source capacity in some areas, and therefore impacts directly on residents in those areas.
A lot of work has been initiated regionally and within ECC to address recruitment and retention in the social care workforce.
The latest data showing that Essex position against our Regional Local Authorities.
Vacancy and Turnover Rate across Eastern Region 2022/23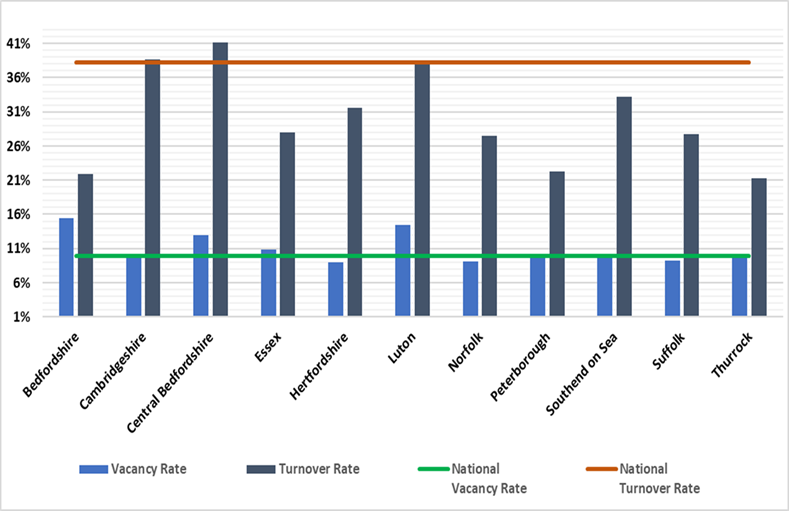 Age Demographics across Eastern Region 2022/23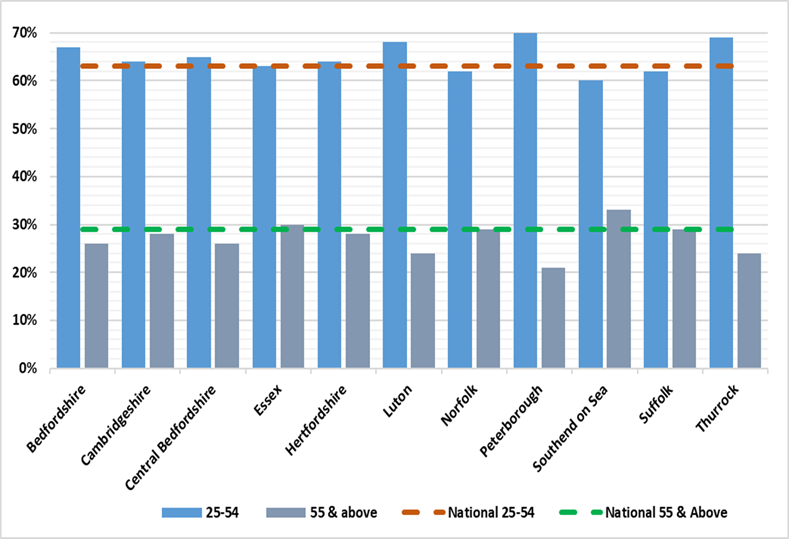 Permanent and Temporary Employment Status across Eastern Region 2022/23
| | | | |
| --- | --- | --- | --- |
| Local Authority | Permanent Contract  | Temporary Contract | Indirectly Employed |
| Bedford | 90% | 1% | 9% |
| Cambridgeshire | 94% | 1% | 6% |
| Central Bedfordshire | 88% | 2% | 10% |
| Essex | 90% | 1% | 9% |
| Hertfordshire | 87% | 4% | 9% |
| Luton | 86% | 5% | 10% |
| Norfolk | 91% | 3% | 7% |
| Peterborough | 91% | 2% | 8% |
| Southend on Sea | 81% | 7% | 12% |
| Suffolk | 90% | 1% | 9% |
| Thurrock | 75% | 7% | 18% |
| National Average | 88% | 2% | - |
Source: Skills for Care weighted workforce estimates 2022/23