The demand in our services is driven by the need of our population, and we underpin the need by primary support reason, secondary support reason and the number health conditions of an adult.

The above table is showing that the number of people with a primary support reason as sensory has the highest number average health conditions. This tells us that an average person has multiple care needs, and this requires local authority to design more personalised care service to support the complexity of needs.
Around 2.2% of the Essex population have some form of baseline learning disability, the below graph is showing the predicted changes.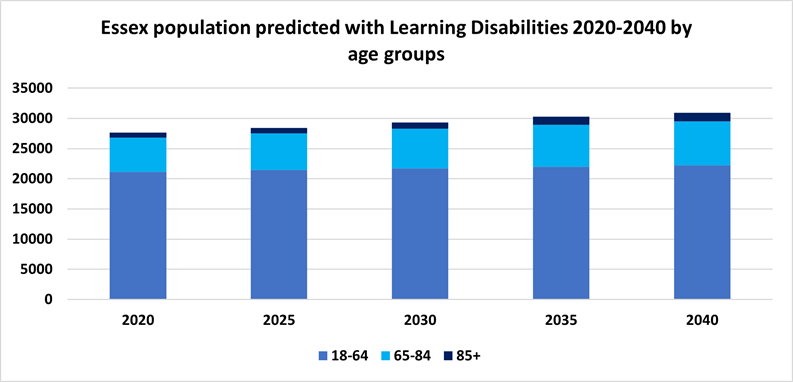 As the percentage of our population living with some form of learning disability and/or autism continues to grow, our services will continue to see a rise in demand.
In Essex we have 3,860 adults aged 75+ as registered blind or partially sighted, and 17% of the Essex adult population have a long-term health problem or disability with Dementia being the most common. The below graph is showing the predicted increase in population aged 65+ with Dementia during 2020 to 2040.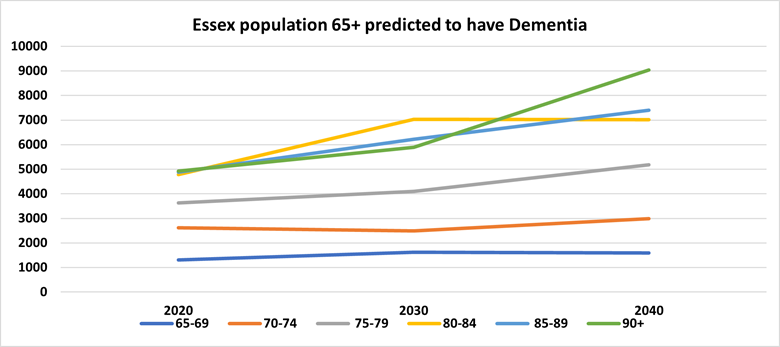 It is estimated that nearly 15% of the Essex adult population aged 16+ have a common mental health disorder, and people aged 65+ is 9.5% of the population. The pandemic will impact these prediction, and overall the mental health demand will be much more than what has been predicted.