At time of setting next year's budget, as at February 2022, the medium range scenario for future years indicates a gap between the Council's expected funding streams and the Council's expenditure. After delivering 100% of all existing planned savings, the gap is expected to be £24m in 2023/24 rising to £119m by 2025/26, before further tax rises and before the emerging CPI increase.
The outlook for the authority is set out below, however this mid range scenario is likely to change given the context of Fair Funding Reform for local government from 2023/24: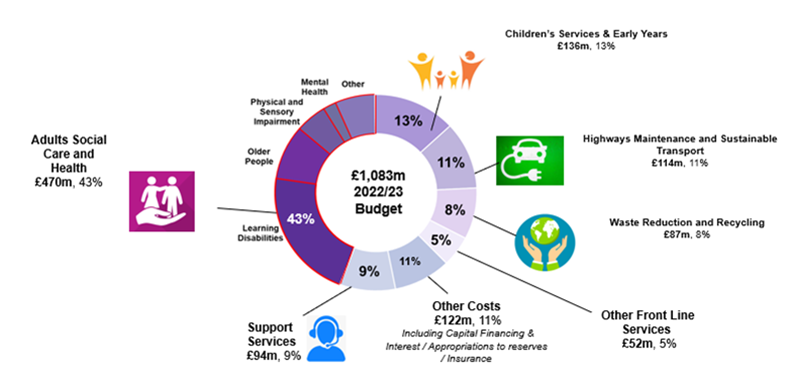 The figures above are net of income.
In 2022, there will be renewed focus on looking at further ways to transform the Council and identify ways to drive further savings, including through use of technology and digitisation.
The Council must continue to explore the redesign of services and different ways of working with its partners, local communities and the voluntary sector to ensure essential services can be provided within the context of increasing demand. The realignment of resources to ensure they are focused on the aims set out in Everyone's Essex will also continue to be a key focus.
What do we spend the money on?
4,350 residential placements
233,000 domiciliary care hours per week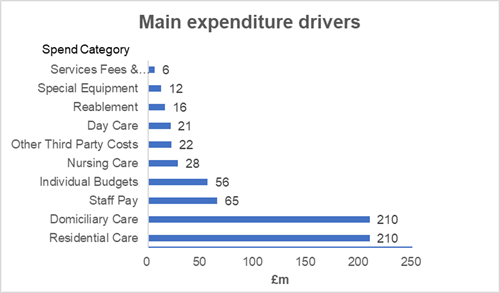 What are the main risks on the horizon?
Provider failure and market stability – availability of workforce, and possible longer term inflation
Social Care reforms – currently uncertain on the level of funding that will be available for implementing the changes (go live October 2023), and high level of uncertainty on what the potential costs could be.
Below shows the breakdown of our cohort  budget for 2022/23:
Last updated: 27/05/2022